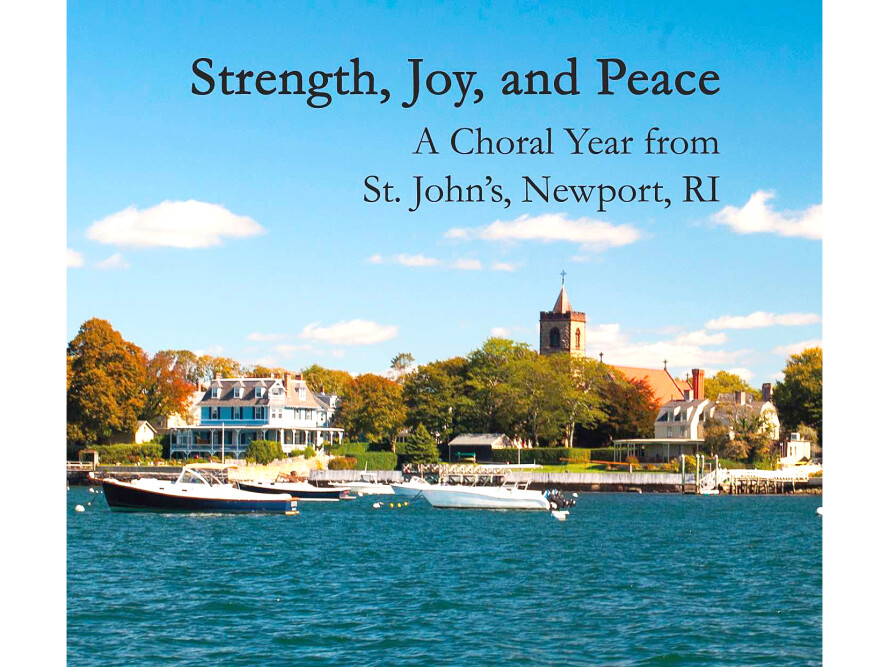 Preview the CD here
You can also use the above link to purchase and download the CD, when available

Downloadable flyer (CD jacket) here
A Digital Recording, "Strength, Joy and Peace: A Choral Year from St. John's, Newport" is available in both CD and download formats on iTunes and Amazon Music.
The first St. John's choral CD in recent memory is of past performances, culled from St. John's and Choir School archives which have become so essential to our ability to continue presenting music to the community during the pandemic. Over the past eight months, sifting through these archives has unearthed much treasure and given new perspective to years of choral growth. Selecting just 20 pieces was its own challenge, in order to represent the shape of a complete year. In it you will find a healthy dose of Advent and Christmas (early in the disc), including many things that make the Choir School's presence at St. John's so special!
These are live performances and we've left all the "human noises" moments intact … partly as there is no way to remove most of them without a second quiet take to insert as a replacement, and partly as a reminder that (to quote founding Board Chair Father Humphrey) these are real shared moments, fostering "a deeper appreciation for life in community." Three of the tracks were sung in services by the St. John's adult choir alone; four other tracks were entirely "fabricated" in our Guild Hall studio by the adult choir this past fall. On the majority (thirteen of twenty tracks), the choristers shine in live performances from our 2018 England tour, the third annual Candlelight Concert of Remembrance, services sung jointly with the St. John's adult choir, and two past "Christmas on the Point" concerts.
A fundraiser for the Martin Luther King, Jr. Community Center and the restoration of St. John's historic 1894 Hook & Hastings organ, proceeds will be split equally between the two, and that half which goes to the organ will be matched dollar for dollar. This is certainly a year to remember, and this stocking-stuffer will be treasured for years to come. Perhaps some track or other will find some measure of international digital fame out there, and a gazillion downloads of it will pay for the organ tor our next international tour. We can only hope, but meanwhile we can listen through our recent history, sweetened by the miracles of modern technology. Enjoy!
To order a hard-copy CD for pickup or via mail, please be in touch with Melanie
at . CDs are $20 each or five for $90 and can be picked up,
or mailed from the parish office after payment is received.